Reading Time:
10
minutes
Updates for Delhi Schools Admissions 2021-22
Update January 2021: Delhi Deputy CM has commented that there is no plan to scrape Delhi school admissions for 2021-2022.
Update February 2021: School admissions in Delhi for the academic year 2021-2022 for Nursery, KG up to class 1 have started on February 18th 2021.
Update March 2021: School admissions in Delhi for the academic year 2021-2022 for Nursery, KG up to class 1 have are now closed. The first list for eligible candidates will be out on March 20th 2021.
The 'Apply Now' link to common admission form for all Delhi schools is now closed for entry level classes.
Contents
The Delhi School Admissions 2021-22 Hype
Education is one of the most important steps for the socio-economic development of a nation. Literacy and access to a good education are some of the prominent symbols of a successful government. Likewise, admissions are one of the major 'events' within the schedule of importance for any state, city, and country. Delhi school admissions have always managed to capture the 'buzz' when it comes to the excitement surrounding it. Being the capital city, it is a place of national importance and all news is big news.
School admissions in Delhi are competitive, and securing a seat at one of the institutes is a matter of privilege. Here is a guide to admissions in Delhi for you.
Current Scenario for 2021-22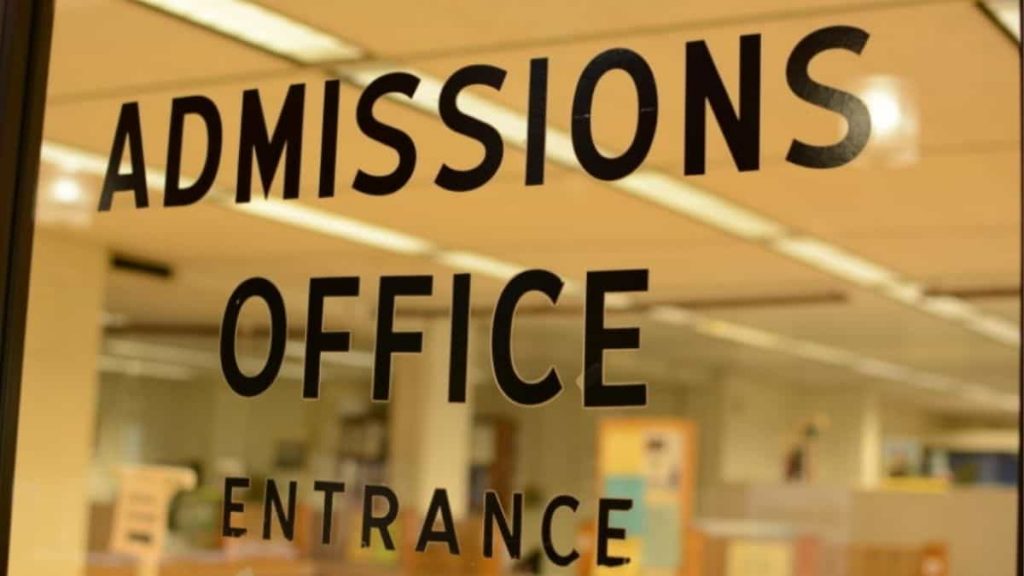 The admission process during the pandemic has changed. The process has the 'new-normal' trend as well. The applications have gone online. This is to bring about a sense of order and to avoid anxiety revolving around the future of education. Many parents are not accustomed to the new form of online admission; hence we have brought you a guide to school admissions in Delhi so you can understand it better.
School Admissions 2021-22 for Nursery, KG and Class 1
A well-planned admission procedure has been panned-out by the Directorate for 2021-22. Admissions to the entry-level classes(nursery, KG, etc) have been scheduled to start on 18th February 2021. This is for the open seats in the Private unaided recognized schools for the year 2021-22. Here are the important dates:
Delhi School Admissions 2021-22 Timeline
| | |
| --- | --- |
| Particulars | Date |
| Online registration procedure begins(link is now live for the common application form) | 18/02/2021 |
| Last date of submission of forms | 04/03/2021 |
| First list of admissions released | 20/03/2021 |
| Second list of admissions released | 25/03/2021 |
| Final day of Delhi schools admissions for Nursery 2021-2022 | 31/03/2021 |
| First day of the academic session 2021-2022 | 01/04/2021 |
Entry Level Classes Admissions Time Table for session 2021-22
Number of Seats Open for Admission
Admissions in Delhi for more than 200,000 seats in classes Nursery, KG and Class 1 at over1,750 unaided private schools shall open on 18th February 2021.
Selection Criteria for Admission
While studying a guide to school admissions in Delhi, it is also important to understand the criteria for admission. Here is some information about this:
The admission to the private unaided schools in Delhi under the General Category is done through the 'Point System'.
The Points are assigned as per the 'Selection Criteria adopted by each school'.
The Maximum points are 100.
The candidate with the maximum points is selected as per the seats available in the school.
In the case of 'Same Scores', a Lucky draw is used as the deciding factor.
The final parameters of point allotment are executed by the school alone in case of admissions.
The distribution of points is done as per the school's choice alone.
The points that have been abolished by the government cannot be included by any institute.
Additional Admission Criteria
Some schools give priority to students on the basis of various factors. They include:
Neighbourhood: Most schools give preference to the students residing nearby. The school calculates distance using either 'Radial Calculation' or 'Distance by Road'.
Alumni: There are schools in Delhi that give preference to the candidates if their parents are 'Alumnus' of the institute. This also varies from school to school. Some schools consider an alumni as a student who studied for 1 year while others require a minimum of 5 years of study.
The Girl Child: Some institutes reserve seats for girls during admissions.
Staff Ward: Certain institutes offer seats to the children and also grandchildren of the Staff at school. Eg Bal Vikas Public School.
Only Child: There are a few institutes that offer preference to the only child.
Delhi Police Personnel: Some schools have criteria for the children of the Delhi School Personnel.
Single Parent: Some institutes offer seats to the children of single parents as well.
Transferred From Other Schools: Certain schools also allot points to the students that have been transferred from other schools. This includes interstate, city, or international transfer.
Regional Minority: Some schools allot points to the regional minority students as well. Eg Montfort School, Jaspal Kaur Public School.
Adopted Child: There are cases where points are allotted for adopted children.
Documents Required for School Admissions in Delhi
Primary
The latest photograph of the child, father, mother, and family photo.
Aadhar cards of the: child, father mother
A temporary Enrollment Slip can also be produced at the time of the admissions.
Details and Spellings should be the same in all documents.
Correct and authorized Birth Certificate of the child should be in place.
At least 20 self-attested photocopies of the documents should be ready.
Residential proof: Ration card, Smart Card bearing the name of the parents.
Domicile Certificate: Child or parents.
Voter ID card of any parent.
Electricity bill/MTNL telephone bill/Water bill/Passport in the name of any of the parents or child.
Medical/ immunization certificate issued by a registered Medical practitioner.
Affidavit for Distance from school.
Additional Documents
Letter by the Priest: for Catholic students
Baptism Certificate: for Catholic students
Religion minority certificate.
Affidavit: Single parent
Death/Divorced certificate in case of Single parent.
Affidavit of Single Child
Affidavit of Twin Children
Transfer Certificate in case of transfer.
Staff ID in case of staff children
National Certificate of parents that are national awardees.
Affidavit for Inter-community marriage.
Seat Break-up For Private Unaided Institutes
25%- EWS, DG
5% – Staff Quota
20%- Management Quota
50%- General Category.
Age Criteria
Nursery/ Preschool: 3 Years- 4 years (for those born between 1st April 2016 to 31st March 2017) including the upper and lower dates.
KG/Pre-Primary: 4 years- 5 years (for those born between 1st April 2015 to 31st March 2016) including the upper and lower dates.
Class 1: 5 years- 6 years (1st April 2014- 31st March 2015)
Admission Process 2021-22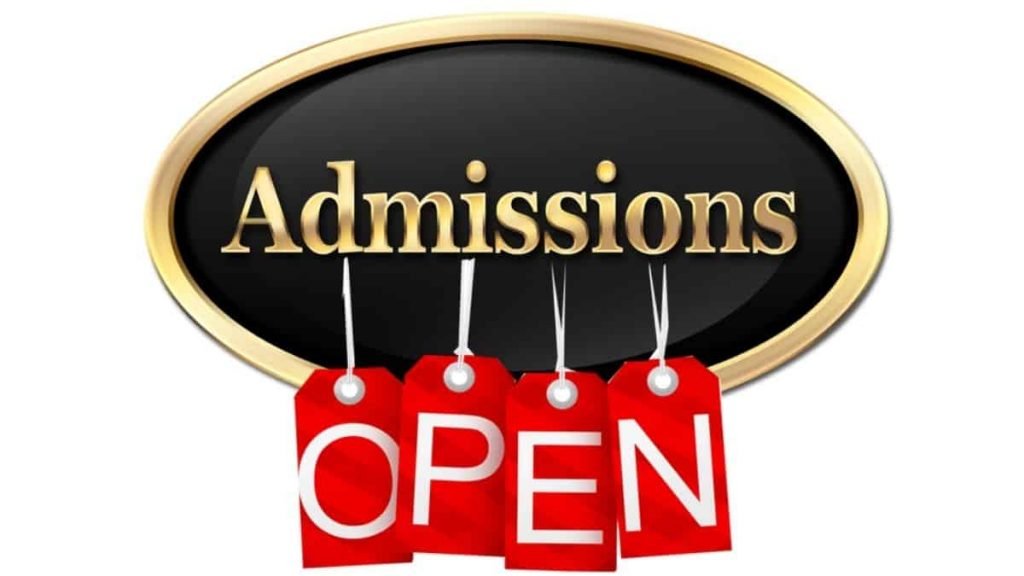 With the ongoing pandemic, the application process and registrations have become a challenge. As it is not possible to travel, various new options are available. There are various resourceful and reliable 'Third-party platforms' that offer a guide to admissions in Delhi. These registered and reliable sources offer swift and smooth admissions to parents. The best part is that now you can easily apply to several institutes at the same time. With the hi-tech application processes, uploading and scanning of documents and submissions through the online channels are the new-norm.
This new method of online applications has been explored due to the current situation. The results have been encouraging and quite positive. Various schools have opted for online platforms and have also recognized various 'education platforms' that are exclusive for the process of admissions.
It is however the responsibility of the parents to investigate the authenticity of these platforms thoroughly to be able to rely on them for admissions.
Application Procedure
Here are all the details that you need to apply to over 350 schools across Delhi and fill the common application form.
Step 1: Go to https://unf.app/dna21bbtn to start the process of filling the common application form and sign up using your Gmail account or by filling the signup form.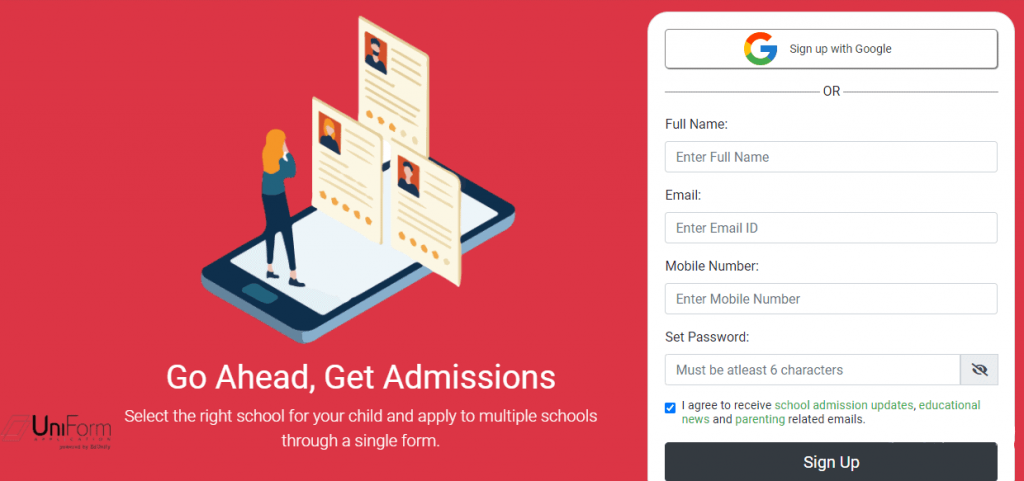 Step 2: After Signing up, select the area in which you are looking for schools to apply for admission.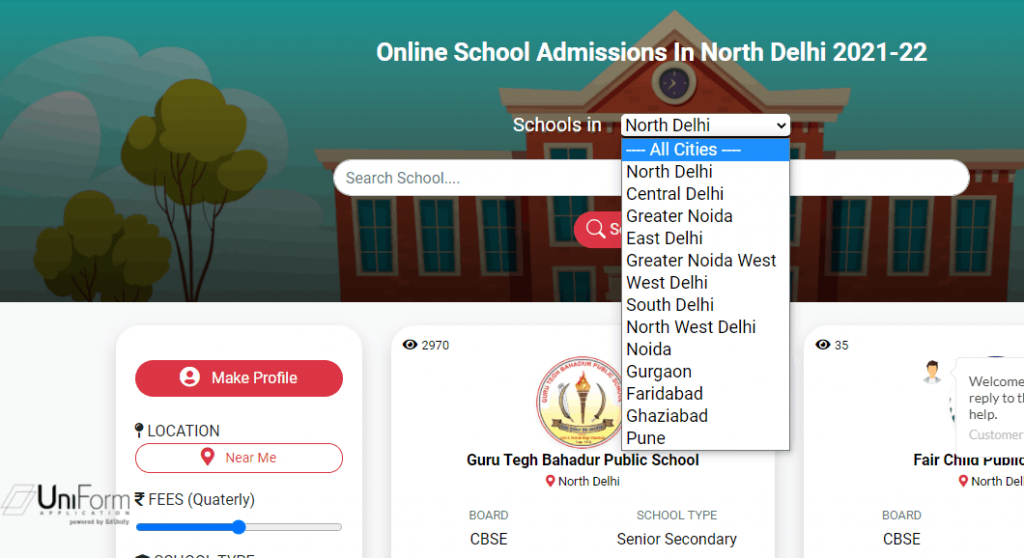 Step 3: Once you have selected the area, click on apply on any school that you are seeking admission for your child in.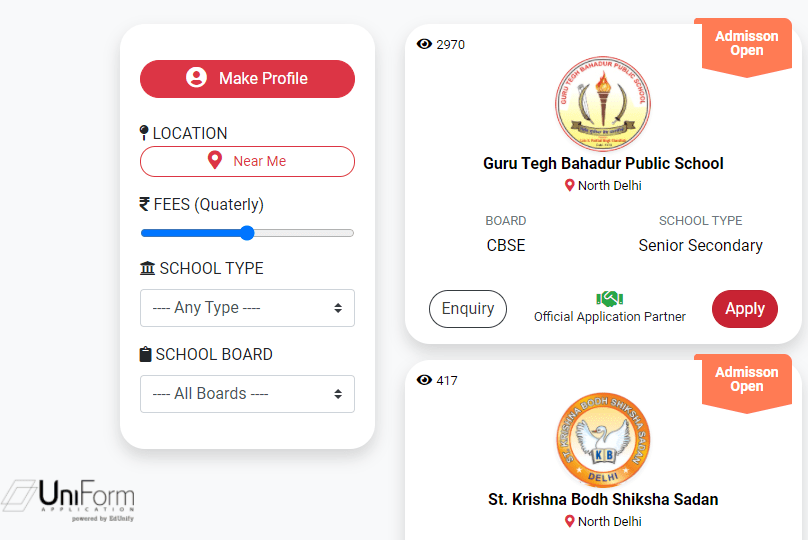 Step 4: After you have selected a school, select the class for which your child is eligible.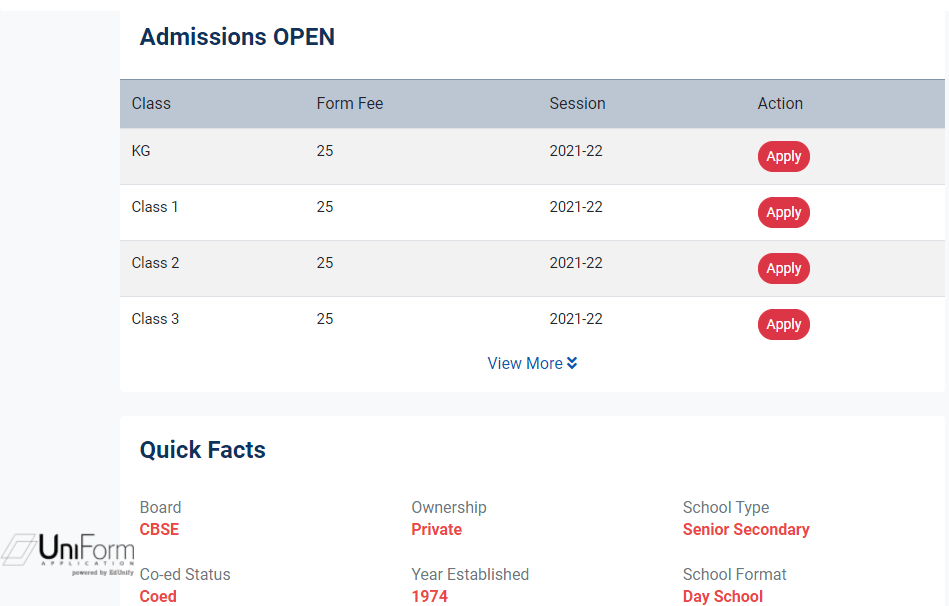 Step 5: Enter your child's name, date of birth, and gender. This will create a profile for your child. You can make multiple profiles if you are seeking admission for more than one child.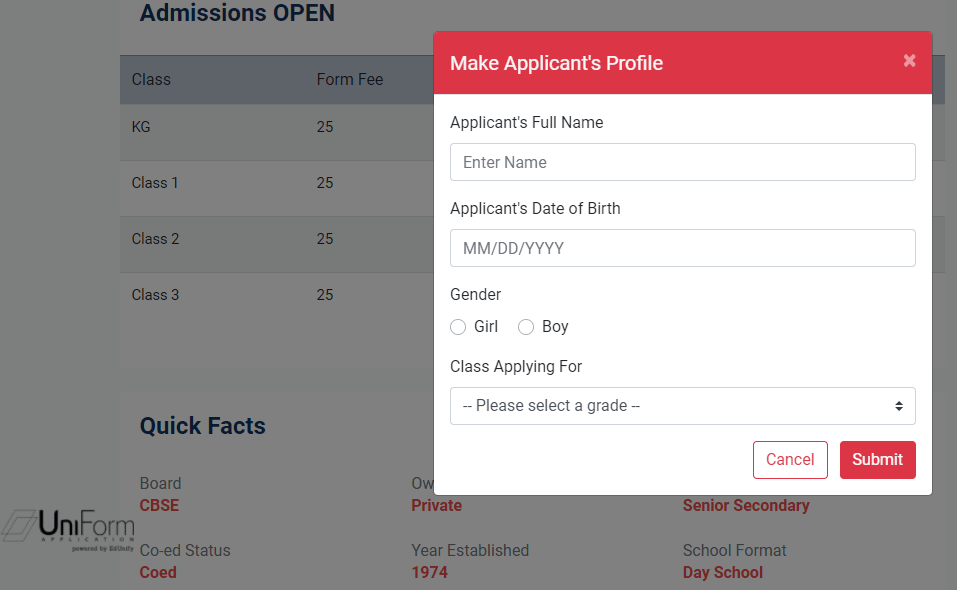 Step 6: After filling the details, click on the 'fill application form' button to go to the common admission form.

Step 7: Carefully fill the common application form for admission.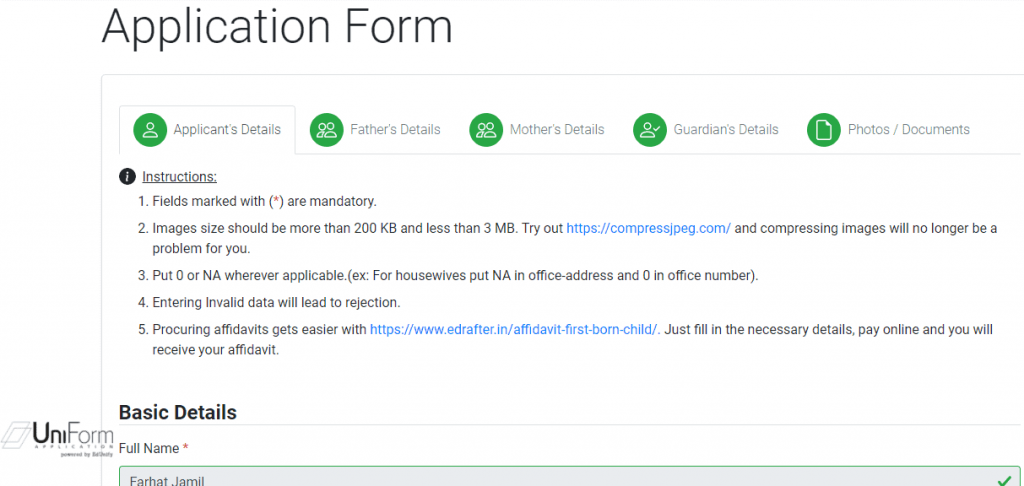 Step 8: Upload the required documents.

Step 9: Verify all the details that you have filled and then proceed to payment by clicking the 'Pay' button.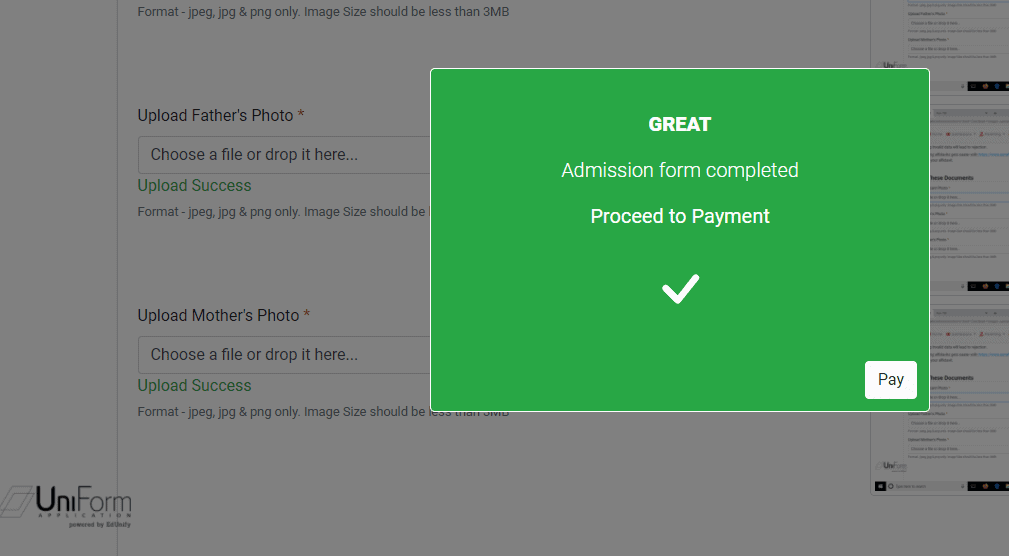 Step 10: Add more schools that you want to apply for admission at by clicking the 'add more schools' button or proceed to payment portal directly after checking the payment details.

Step 11: Enter the phone number and email address on which you to receive the invoice.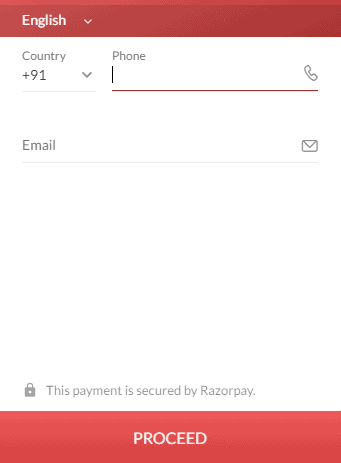 Step 12: Complete the payment using your preferred payment method.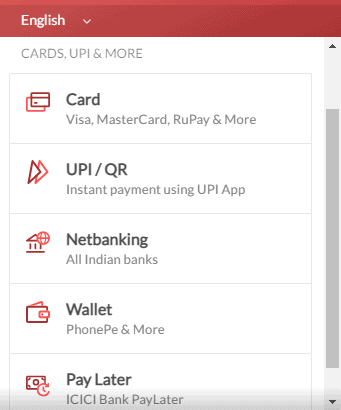 Admission Grievance Cell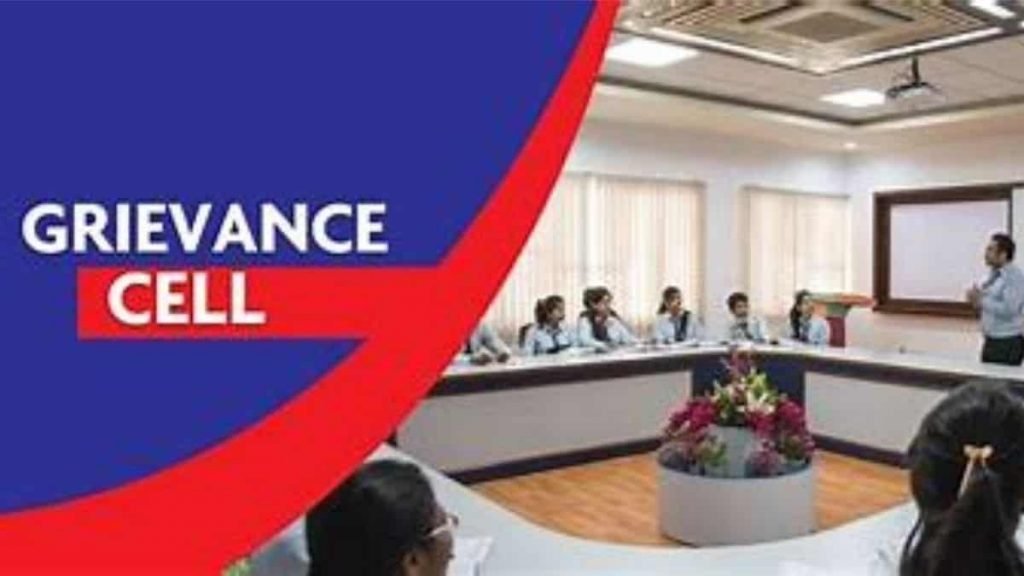 The DOE has set up a District Admission Monitoring Committee (DAMC) at each district in Delhi.
The Director and Directorate of Education is the chairperson of the DAMC.
Help Desks at District Offices will assist the parents on topics concerning the admission process.
This Help Desk will be functional until the end of admissions.
Fees
As per the High Court order, no school can collect capitation fee/ donation from the parents at the time of admissions.
In case of withdrawal of Admission: The school can retain:
Any other charges can be refunded within 15 days by displaying the right receipts.
Schools must collect fees only monthly from the parents.
FAQs about Admissions in Delhi Schools for 2021-22
When are the admissions for entry level classes starting in Delhi for 2021-22?
School admissions in Delhi for the academic year 2021-2022 for entry level classes(Nursery, KG, and Class 1) shall begin on February 18th 2021.
What is the selection criteria for admission in Delhi schools?
Delhi schools follow a very specific selection criteria while giving admission to students. You can find this criteria in detail here.
What is the eligibility for admission in Delhi schools?
Nursery/ Preschool: 3 Years- 4 years.
KG/Pre-Primary: 4 years- 5 years
Class 1: 5 years- 6 years
For more details on the age criteria, click here.
What documents are important for nursery admission in Delhi?
Documents like Aadhaar card, birth certificate, latest photographs, among others, are required to apply for admission.
Here is a more detailed breakdown of all the primary and additional documents required for admission to nursery in Delhi.
How many seats are open for admission in Delhi?
More than 200,000 seats in classes Nursery, KG and Class 1 are available for admission in Delhi.
How many Delhi schools are offering admissions?
Over 1,750 unaided private schools in Delhi shall start accepting application for admissions from 18th February 2021.
Which are the best schools in Delhi?
Delhi is home to some of the best schools in India. Here is our list of the best schools in Delhi for admissions 2021-2022.
When are the schools going to begin the new academic session in Delhi?
Delhi schools will begin the academic session 2021-2022 on 1st April 2021.
Non-Planned Admissions
The 'non-planned' admissions or the admission aside from the feeder school usually begins in April every year. However, with the ongoing Pandemic situation, it yet to be relived how the process will be carried out.
Last year, the process went like this.
Completely Online
Was extended till September 8
Helpdesks had been set up at various schools to assist the process
All schools also had 'Helplines' available to assist the online process.
The process of verification had been done 'in person' by the candidates with documents in place.
The admissions were confirmed only after the physical verification of the documents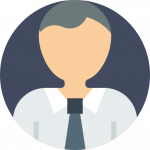 I have a passion for word play and considers language as a tool for much deeper human expressions. I aspire to help the youth 'write a new start ' through this wonderful platform. Currently I am working on learning to enrich my 'Urdu'.