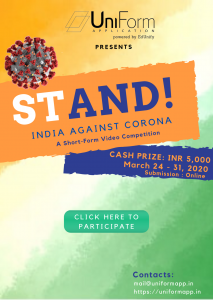 Coronavirus, or COVID-19, is something that is affecting all of our lives. As we fight back against this virus through social distancing and staying at home, our brave caregivers like doctors, nurses, etc work tirelessly to protect the people of our country from succumbing to this deadly disease.
To help spread awareness about protective measures against the coronavirus and to show our appreciation for our wonderful and brave caregivers, we present #IndiaAgaisntCOVID19, a short-form video competition.

Cash Prize: INR 5,000/-
Eligibility:
Anyone who wants to help defeat the coronavirus and show appreciation for our caregivers.
How to Participate:
Participants must make an original video that is 30-120 seconds in duration.
The video must be about "How you are fighting the coronavirus" and must include a "Thank you" to our caregivers who are fighting this disease tirelessly.
Upload the video in the google form itself.
Entries will be accepted till 31st March 2020.
Note:- A video that is less than 30 seconds or more than 120 seconds in duration will be immediately disqualified. Any video that deviates from the topic will also be disqualified.
Scoring Criteria:
Points will be given on how well-made, creative, fun and informative the video is as well as the energy and the enthusiasm of the performers.
Rules:
Participants can send multiple entries.
All entries must be based on the given topic.
The video which is submitted must be original.
No mechanically reproduced, incomplete, forged, software generated or automated entries will be accepted.
The video which is submitted must be between 30 to 120 seconds in duration.
Inclusion of any obscenity, profanity or inappropriateness in the submitted video will lead to immediate disqualification.
All entries must be submitted before 11: 59 pm on 31st March 2020.
Terms and Conditions:
By submitting any Video to the Contest, Participants hereby grant to Uniform Ventures Private Limited and its affiliates, subsidiaries, licensees and assigns, an irrevocable, perpetual and royalty-free right to use, reproduce, edit, display, transmit, prepare derivative works of, modify, publish and otherwise make use of the submitted Video in any and all media, whether now known or hereinafter created, throughout the world and for any purpose. In addition to other things, the rights granted to Uniform Ventures Private Limited include but are not limited to the right to censor, compress, edit, feature, caption, affix logos to, and to otherwise alter or make use of the submitted video.
In addition, by submitting any video, Participants hereby represent and warrant that the submitted video or information does not and shall not infringe on any copyright or other right of any third party, and Participant has the right to grant any and all rights and licenses granted to Uniform Ventures Private Limited herein, including but not limited to all necessary rights under copyright, free and clear of any claims or encumbrances. Uniform Ventures Private Limited may, but shall have no obligation to, post, display or otherwise make publicly available any video submitted by you, and may, in its sole and unfettered discretion, remove, edit, modify or delete any portion of the video or information that you submit.
Acceptance of a prize constitutes the prize winner's permission for Uniform Ventures Private Limited to use prize winner's name and likeness for advertising and/or promotional purposes worldwide and in all forms of media in perpetuity without further compensation or authorization.
Participants agree that Uniform Ventures Private Limited and its affiliates, and their officers, employees, agents and representatives, shall not be responsible for any losses, damages or injuries of any kind resulting from participation in the Contest or from Participants' acceptance, receipt, possession and/or use or misuse of any prize.
Participants also agree that the Uniform Ventures Private Limited is not and shall not in any manner be liable for any warranty, guarantee, or representation, whether express or implied, with respect to any prize, including without limitation, the prize's quality or fitness for a particular purpose. Uniform Ventures Private Limited reserves the right in its sole discretion to disqualify any individual who is found to be tampering with the entry process or the operation of the Contest or the Site, to be acting in violation of these Official Rules, or who otherwise takes actions that do or are intended to disrupt or undermine the legitimate operation of the Contest. Uniform Ventures Private Limited also reserves the right in its sole discretion to disqualify any entry containing any obscene, offensive or otherwise inappropriate comments or other matter.