Reading Time:
10
minutes
Genesis Global School is a private residential school in Noida, Uttar Pradesh. The School started in the year 2009 and has grown to become one of the best schools in Noida. Gurdeep Singh Chadha established the School in 2009, and the School is under the Wave Group of Companies. It aims to provide quality global education and has affiliation from 3 boards- CBSE, Cambridge and IB. The School offers world-class infrastructure facilities with a comprehensive learning experience for the students. The School provides unmatchable facilities like modern classrooms, a centre for performing arts, indoor activity rooms, a sports complex, residential boarding facilities, dining halls, an infirmary, horse riding, and many other facilities. It focuses on the individual interest of each child and helps them foster it. It ranks amongst the best schools in India, produced excellent alumni's and has won many laurels in the past few years.
Established: 2009
Location: A – 12, Noida-Greater Noida Expressway, Block B, Sector 132, Noida, Uttar Pradesh 201304
Director: David Brazeau
Principal: Ms Varduhi Grigoryan-Avetisyan, Mr Ajay Singh and Neeti Bhalla Saini
Affiliation: CBSE and IB
Fees: 8 LPA
Type: Private Residential School
Contact Information: 097110 00626
Aim and Vision
Genesis Global School aims to nurture resilient, holistic, empathetic and lifelong learners by providing a multicultural environment for a sustainable future.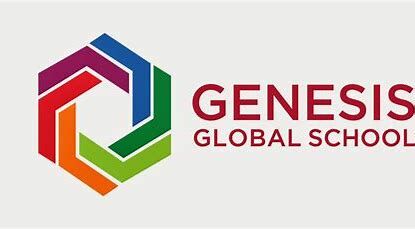 Mission
The Genesis Global School aims to produce responsible global citizens who provide to contribute to society in various capacities. The School offers the students with the freedom to be, to act, to impress and to dream. It incorporates an inquiry-based curriculum with Co-curricular experiences and realising the role of community voice and student agency.
Ranking
Genesis Global School ranks amongst the best private schools in Noida. GGS ranks 5th and 3rd best international School in Delhi NCR region for the year 2019 by the Hindustan Times and Education World Magazine.
Affiliation and Academics
Genesis Global School follows the Central Board of Secondary Education (CBSE), Cambridge Assessment International Education (CAIE- IGCSE) and the International Baccalaureate Diploma Programme (IB DP). The School follows CBSE from Grade 6 to Grade 12, and Grade 11 to Grade 12 follows the International Baccalaureate Diploma Programme.
Students at the pre-primary level have Early years Programme, Primary Years Programmes (PYP) curriculum for students in Grade 1 to 5, Middle Year Programme (MYP) for Grade 6 to 8 and MYP/IGCSE programme for Grade 9 to 10. The School teaches subjects like English, Hindi, foreign languages, social studies, technology, drama, dance, civics, history, yoga, social education, physical education, personal education, physics, chemistry, biology, geography, history, political science and many other subjects. The School tries to understand the individual interest of each child and focuses on the learning of that subject. Sports and Co-curricular activities are also an integral part of the school curriculum for all students.
School Campus
Genesis Global School has a vast campus spread across 30 acres, in Noida with world-class infrastructure and facilities for the students. The school campus has a state-of-the-art infrastructure with super connectivity through the six-lane Taj Expressway. The School has a world-class, green school campus with excellent facilities like modern classrooms, sports complex, CCTV security, horse-riding arena, three sports field, swimming pool, indoor multi-purpose halls, multi-purpose auditoriums and other facilities. The school campus has the following world-class facilities for the students-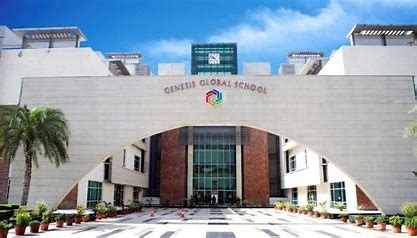 Centre for Performing Arts
The School has a Centre for Performing Arts spread across 50,000 sq. Ft and over two floors, with full air-conditioning, four music rooms, four dance lobbies, 1 Music study room, one theatre study room, one prop designing making room, school band room and many other excellent facilities.
Library
GGS recognises the immense importance of reading and; has a vast collection of books and other reading material. Online course material and hard copies of study material are available at the library. The library has books for student aged to 3 to 18 years old. GGS has an e-library and students can subscribe to EBSCO High School Collection, which provides resources for general and research reading projects.
Multipurpose Hall
Multi-purpose hall spread across 1,10,000 sq. Ft is fully air-conditioned for various indoor activities and sports like Squash, Basketball, Fencing, Gymnastics, Badminton, Yoga, Tennis and various other sports activities.
Classrooms
GGS has air-conditioned and international designed classrooms for the students. The School has ergonomically designed furniture for students to keep their posture straight and upright. It focuses on the betterment of the health and mind of the students. The classrooms are Wi-Fi equipped with projectors, bulletin boards, display boards and wireless display adaptors; for better teaching experience and environments for the student. GGS is one of the leaders in learning and technology, being a Microsoft showcase school.
Laboratories
GGS has state-of-the-art and customised labs to cater to the needs for students for subjects like Physics, Chemistry, Biology, Robotics and Design Technology. Lab classes take place regularly with particular attention to safety rules and lab etiquettes.
Infirmary
GGS has an eight-bed on campus fully equipped infirmary with an exceptional independent isolation ward. GGS has a tie-up with Max Hospital Noida and Jaypee Hospital Noida for all medical emergencies. Resident Students of GGS undergo full body checkups twice a year with a unique eye and dental care. The infirmary at GGS has an ERP system to track and check the resident scholar's health regularly. The doctors are available round the clock at the infirmary. They are available 24/7 for any medical or sports injury-related emergencies for the students as well as the school staff.
Central Dining Hall
GGS has a modern hygienic dining hall with a capacity of 750 students and staff. The school dining hall follows the best global practises for cleanliness, supply, storage, preparation and delivery of the food to the students. An expert nutritionist designs the menu of the dining hall at GGS, to provide a well-balanced and nutritious diet to the students every day. The School prohibits the consumption of any form of junk food or soft drink on the campus.
Transportation
GGS school has 26 school buses equipped with Vehicle Tracking System (VTS) and Cameras to monitor the speed, location of the bus and; for advanced safety and security of the students on board. All the buses are air-conditioned with a security guard and caregiver. They assist in the pickup and drop off students along with the security of each student.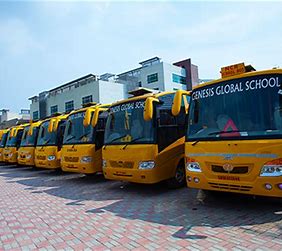 Security
GGS has round-the-clock security and guards, along with surveillance cameras and 280 CCTV cameras for the high-level security of each student. The School ensures safety and security of the students on the school buses as well, with CCTC, Bus cams, VTS system, security guards and caregivers.
Boarding Life at GGS
Genesis Global School has one of the best residential facilities for the students. The School offers two options for student boarding- 5-day boarding and seven-day full boarding. The students are under the supervision of Head of Residences and a group of house parents who cater to student needs during the boarding. The boarding staff organises various activities and outings regularly for the students. The fun zone is one such event which includes various activities like dance, music, rangoli, skating, extempore, sports, cooking and various other activities for the students to take part. Daily After school programmes and weekend service programme take place with active student participation at GGS.
The boarding facility comes equipped with various other facilities like- the library, art room, outdoor activities, outdoor space, athletic facilities, entertainment tv room and many other unmatchable facilities for the students. The School offers advanced security through closed-circuit TV and 24/7 security personnel. GGS organises adventure activities and outdoor educational excursions during the mid-term break each year for the scholars. These excursions foster learning, overall development and team building through active participation. The students in residential boarding have to follow a fixed timetable, pre-designed by the School for everyday activities.
Teaching Faculty and Staff
Genesis Global School has excellent, well-trained and dedicated teachers and support staff. The teachers at GGS hold various degrees from reputed colleges and universities around the world. The teaching faculty is one of the best and emphasis on providing special individual attention to each student. The teachers are available at all times to assist, guide and help the students work to achieve their dreams.
Student Life at Genesis Global School
Student life at Genesis Global School is a perfect blend of academics and Co-curricular activities, along with the importance of holistic learning. The School puts particular focus on Co-curricular activities for the students like Model United Nations, Sports, student clubs, student councils, international student exchanges, after school programmes, publications, foreign exchanges, performing arts, community service, VA/ PA programmes, robotics, astronomy, design & technology and various other activities.
The School helps student follow their interests and passion by providing the right guidance. It offers sports like tennis, badminton, swimming, squash, basketball, gymnastics, table tennis, cricket, football, shooting, wall climbing, adventure sports, karate, fencing, yoga, fitness, equestrian and many other sports. The School has sports and Co-curricular activities mandatory for all the students. It helps to promote the all-round development of all the students.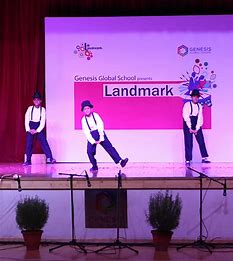 Publications
Genesis Global School releases various magazines and publications throughout the year for the students and parents. The publication contains multiple activities, achievements and initiatives taken by the school students. The School has the following publications-
The Trumpet
Buzz
Special Publication
Science Magazine
Design and Technology Magazine
Coffee House/ Camaraderie
International Exchanges
Genesis Global School has a cultural student exchange and academic partnerships with various schools in countries like Germany, France, England, etc. Student exchanges take place each year along with trips to NASA and CERN to foster global learning experience for the students. The School aims to teach skills like communication, culture, connection, comparison and communities through international student exchanges and homestay programmes.
After School Programme
Genesis Global School has after-school sports and activities program for the scholars. The students can be a part of the after-school programme operating on all School working days from 3.30 pm to 5.30 pm. These programmes provide students with the opportunity to follow a particular stream, sport or activity after school hours.
Community Service
Genesis Global School emphasises on community services and; from a very early age inculcates the spirit of giving and social service in its students.
Students in Grade 1 and 2 have regular interaction with Sai Shiksha Sansthan, which is study home for underprivileged kids of Wazirpur village. Students in grade 3 take part in community service for Ruhi Foundation, which is an educational institute for disadvantaged kids. In class 4, students take part in community service for underprivileged kids at Apna Ghar and Grade 5 works for a particular school for differently-abled children called MBCN.
In Middle School, students work towards community service at Project Dosti, Project Bhagidari, Project Bachpan Bachao, Bal Ashray and various other projects. They aim these projects towards giving and helping the underprivileged, differently-abled children and various NGO's.
The senior school students take part in community service in schemes like Bhaagidari, Ramakrishna Vivekananda Mission, Welfare home for children, Disha, Plantation Drives, medical camps and various other projects aimed towards helping the society. The School sensitises and educates the children to help and give back to the community. It teaches compassion, understanding and social service in students from a young age.
Student Clubs
GGS has active and independent; student clubs and councils for the students to take part. The clubs promote students to take part in various activities, team building and inculcate interest in the subject matter of the club. GGS has the following clubs for the students to join-
Hindi Club
Robotics Club
IT Society
Indian Dance Club
Reading Club
STEAM
Western Dance Club
Spanish Creativity Club
Social Service
Theatre Club
Current Affairs and Quiz Club
Science Club
Astronomy Club
Debate Club
Dramatics Club
Storytelling and Creative Writing Club
Foreign Language Club
Stitching and knitting Club
Mechatronics Club
Editorial Board Club
Collaboration
Genesis Global School has academic collaboration with top universities of the world like Clifton College, Middlesex University, GSD, Schloss Neubeuern and ermitage.
Membership and Alliances
Genesis Global School has academic membership with institutes like CIS, Round Square, AFS Intercultural Programs India and Indian Public Schools Conference (IPSC). Genesis Global School has alliances with LAMDA and Microsoft.
Admission
Genesis Global School takes admission of new students after student interviews, student counselling and analysis of student interests. For admission at Genesis Global School, the requirements are as follows-
Online Admission Form (Available at the school website for Rs. 700)
A prospectus with admission form available at School
Passport size picture of the applicant and parent
Birth Certificate
Passport
AADHAR card or PAN card
Marksheets of last two academic years
Frequently Asked Question
How to reach Genesis Global School?
Genesis Global School is located in Noida, Uttar Pradesh, which is a part of the NCR region. The nearest airport is Indira Gandhi International Airport, which is 34 km. The nearest railway station is Delhi railway station, which is 25.5 km.
Genesis Global School has affiliations from which board?
The School has affiliations from Central Board of Secondary Education (CBSE), Cambridge Assessment International Education (CAIE- IGCSE) and the International Baccalaureate Diploma Programme (IB DP).
What all facilities do Genesis Global School provides?
The School provides various facilities like residential boarding, dining hall, sports complex, centre for performing arts, swimming pools, modern classrooms, hi-tech labs, infirmary, 24/7 security, transportation and many other unmatchable facilities.
What types of School is Genesis Global School?
Genesis Global School is a Private co-educational residential school. The School has five days and seven-days full boarding programmes for the students.
What is the annual fee at Genesis Global School?
The annual fee at Genesis Global School is around 8 LPA. The school fee is subject to variation according to the transportation facility availed by the students.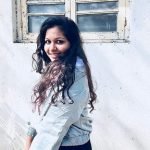 I am a law student at New Law College, Pune. Reading books, sports and learning new languages are a few of my interests. I am inspired by various cultures around the world and like reading about them.