Reading Time:
5
minutes
Combating the hurdles posed by the present situation, Fortune World School commenced its new session with warmth, optimism and zeal. Even though this beginning was done in an unusual and untraditional way, together, as a team, we managed to be triumphant over these testing times. The Staff Members have worked glamorously through these challenging times to ensure that the students receive a continuous and smooth virtual learning experience.
Ronald E. Osborn rightly said,
"Unless you try to do something beyond what you have already mastered, you will never grow."
Believing this, one of the most admired schools in Noida, the prestigious Fortune World School which is situated in safe & secure sector-105 of Noida alongside the expressway has strived hard and made use of its strategic and visionary approach to take advantage of the new era of technology and social connectivity during this tough and critical situation.
We shifted our base to virtual platforms to conduct online classes for the academic year 2020-2021, right from making use of the cloud meeting platforms like Zoom & Microsoft Teams and promptly introducing the online classes that are planned with proper scheduling of classes balancing the Quarantine and prioritising the process of learning for the students. The Fortune Fraternity looks forward to providing a potential solution to all the difficulties and challenges.
Fortune World School has taken up the demo-sessions on virtual schooling from the 1st week of April. The teachers were trained to take classes online, and parents/students were guided to carry on with the learning virtually in these exceptional circumstances.
Members of FORTUNE WORLD SCHOOL took every possible measure to make this virtual experience close to their regular school life.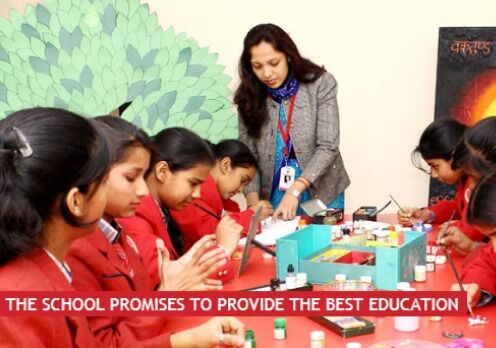 Due to numerous security issues and problems faced with the Zoom App, the school had to shift to Microsoft Teams. Fortune World School took up the responsibility and organised demo sessions with the staff members to make both the parents and the kids comfortable. Regular maintenance of attendance, use of various assessment tools, updating regular home works along the work of the day on MCB App helped the parents to keep track of day-to-day activities.
In order to engage the students and make the learning process more learner-centred, teachers here at Fortune World School have discovered a few apps like KAHOOT, PADLET, GOOGLE FORMS, etc. which worked towards improving the shortcomings of online education to meet the needs and requirements of the students.
We not only focus on academic learning but gave equal importance to the extra-curricular activities as well; right from conducting online exams to organising a Virtual Summer Camp, we did it all. The Virtual Summer Camp included various fun-fledged activities that could be done at home easily, such as
Creating various toys from the trash
Best out of waste
Code-Decode
Storytelling
Dance
Music
And many more!!!
The joy of sharing and learning always gives an overwhelming experience since it breaks all boundaries and unites us with the common mission of providing the best opportunities for our students.
FORTUNE WORLD SCHOOL, Noida organised its very first Virtual Inter-School Competition "IGNITRA 2020" which was highly appreciated by all the fourteen participating schools under the dynamic leadership of one of the eminent educationists- our School Head Dr Poonam Minhas.
We also participated in various inter-school events organised by the various schools where our students performed extremely well. These include events organised at Delhi-NCR level and Gautambuddh Nagar Level in which other schools like D.P.S, Kothari, J.B.M Global, Gyanshree, Lotus Valley competed together. The students of FWS did remarkable well by winning got positions everywhere they participate. The reason is the hard work of teachers & students.
Competition is one of the most important aspects of life. It makes us all step out of our comfort zones and further teaches us the importance of health risk. With sheer dedication and guidance from the school management, Fortune World School also organised the very first interschool chess competition on a virtual platform. FWS believes in providing students with a holistic education by balancing academics with physical education.
Apart from that, various celebrations, workshops and sessions were held and participated over the virtual platform that included:
A Motivational Talk to keep students' spirits alive and electrifying.
Father's Day Celebration to thank our real-life superheroes.
Workshop on Empowering Teachers
Workshop on the concept of Art Integration to enable teachers to plan their lessons in the most interesting ways.
Kargil Diwas Ceremony in order to brief students about the Kargil War.
Mango Laughter Competition (organised by G.D. Goenka Public School, Greater Noida.
A Special Assembly on World Nature Conservation Day
Independence Day Celebration
Inter-school event "CREO International 2020," organised by Nehru World School, Ghaziabad.
Teachers' Day Celebration
IGNITRA'20 International Competition organised by Fortune World School, Sector-105, Noida.
Dusshera Celebration
Diwali Celebration
Parent- Student Interaction session for grades P1 -J2, where the parents volunteered themselves to teach interesting topics to our little Fortunites.
Bonding sessions in evening for grades J1-J3.
FIRST ONLINE CHESS COMPETITION in which school from Noida, Delhi, Guru gram, Faridabad, Ghaziabad, Greater Noida, Agra & Mathura participated.
GITA WEEK'20
A few achievements of your talented Fortunites are listed below:
Fortunites have raised a banner of excellence by achieving in the Interschool competitions organised by Indraprastha Global School-based on SCI MASHUP were in the student had to do Rap based on the science theory.
The Fortunites have made us proud by achieving five positions in an Inter-School Mango Competition organised by G.D. Goenka School on virtual mode. Fortunites were fortunate enough to bag 2 FIRST and 3 SECOND positions. Not only have the tiny tots made us proud. The head girl of our school has also added a feather into the cap by achieving 1st position in an Inter-school Essay Writing Competition organised by Jaypee International School. We are so delighted to see the Fortunites putting their best foot forward every time.
Our little munchkin Anushka Singh of P3 bagged the First Position by telling a story beautifully related to Covid 19.
Our brilliant Fortunite Ayesha Khan of M1 bagged the second position in Art.
Maham Khan of M1 has also bagged the third position in German poster making competition. We are all proud and thrilled with this achievement of our Fortunites!
Aahana of class J-3 got the first rank at the international level. She has been awarded an international gold medal, certificate of outstanding performance, Amazon gift voucher for being No.1 in zone no.1 in the region, No. 1 in country & No. 1 internationally.
We proudly proclaim that EDUCATION TODAY GROUP has awarded Fortune World school the number 1 school in India for inculcating the 'Holistic Approach' among its students in a ceremony held in Bengaluru on 23rd January 2021. This recognition is another example of a focused approach, hard work & excellence of Fortune team & of the great support that our parents have given us throughout the past. We can't be more grateful to our encouraging parents and extremely talented Fortunites for this.