Reading Time:
5
minutes
Delhi Public School, Azad Nagar was established in 2004 as a follow-up school to the already established franchise, DPS, Sarvodaya Nagar in Kanpur. The later was only a primary school. As the students of the school grew older, they required an expanded holistic development. Realising the need to have a larger premise for the senior school, the management established DPS, Azad Nagar. The founder and headmistress of DPS, Sarvodaya Nagar, Mrs Rachna Mohotra moved on to DPS, Azad Nagar. She is now the Principal of the Senior School.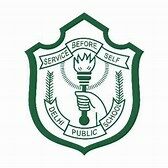 Address: Mainawati Marg, Azad Nagar, Khyora, near NRI City, Kanpur, Uttar Pradesh 208002
Type: Private School
Motto: Service Before Self
Established: 2004
Founder: Mr Choda Tripathi
Principal: Mrs Rachna Mohotra
Number of students: 3000
Campus: Urban
Affiliations: Central Board of Secondary Education (CBSE), Delhi Public School Society
Campus and Infrastructure
The campus of Delhi Public School, Azad Nagar covers 20-acre of land. The coeducational, day and boarding school has more than 3,000 students under its administration. It has an Administrative Block and 3 Academic Blocks: The Primary Block, the Middle Block, and the Senior Block. The pre-primary block has a separate play area, an activity room, a science room and an art room. Every block also has its own computer lab. The school has separate hostels for boys and girls within the school premises. Male and female wardens look after the respective hostels. The school has well-equipped classrooms, labs for Computers, Sciences, Languages and Mathematics. It also has a library, an Amphitheatre, a multipurpose hall, a floodlit playground, a gymnasium, shooting range and an Olympic size swimming pool.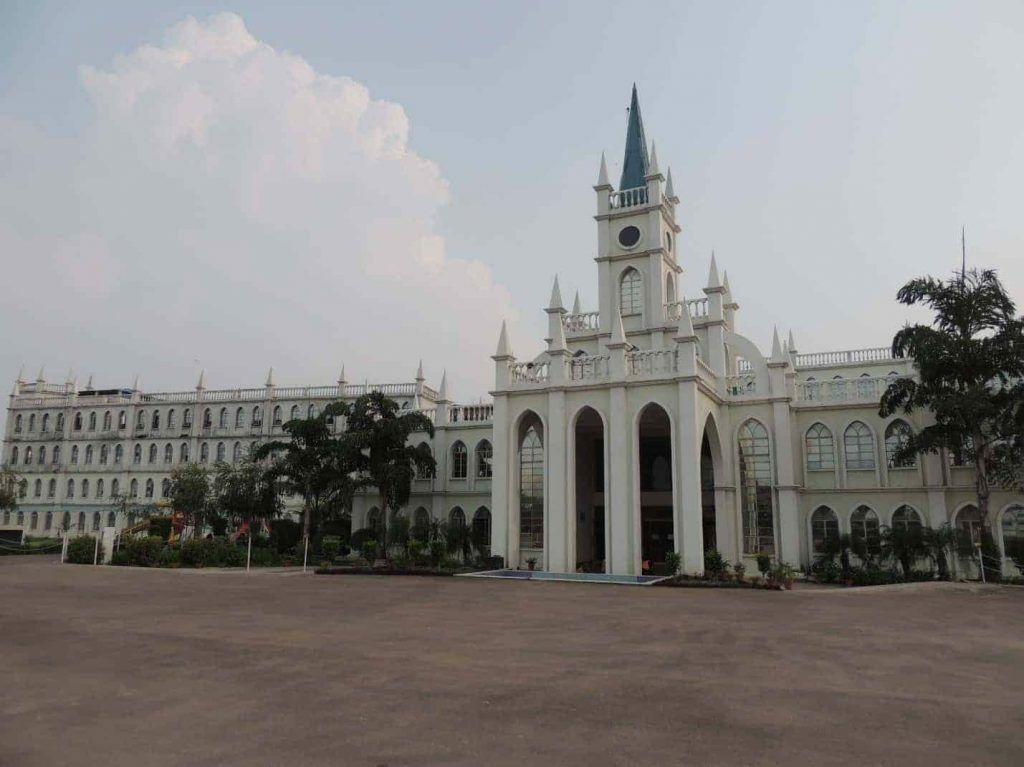 Academic Curriculum
The school has different blocks:
The Primary Block includes classes from Playgroup to Class – V, the Middle Block includes Classes VI-VIII, and the Senior Block consists of Classes IX-XII. The Senior Secondary classes provide all the three streams of Science, Commerce and Humanities.
The students in the Senior Section appear for the All India Senior School Certificate Examination, under the 10 + 2 pattern, conducted by the Central Board of Secondary Education (CBSE), New Delhi. The school prepares them accordingly for it and for other competitive examinations as well. They have the guidance of well qualified and skilled teachers who help them whenever they require. The school also organises various subject workshops regularly where it invites several eminent educationists as resource persons. The school conducts several seminars throughout the year in which renowned and distinguished personalities come and enlighten the students with their experiences and expertise.
It has continuously been among the list of rank holders all these years. The school has shown tremendous success records in all these years. In the AISSCE 2018-19, 4 of the top 10 students of Kanpur were from DPS Azad Nagar. A student of this school was also the city topper with an aggregate of 493 marks.
Extracurricular Activities
A number of activities and events, other than academics, take place throughout the year which inculcate and enhance creativity, communication, critical thinking, and leadership skills in the students. Various clubs at the school organise several competitions throughout the year for debates, elocutions, essays, craft making, painting, music, dance, dramatics and many more. The students participate not only in intra school competitions but also in the state and national level competitions and bring glory to the school.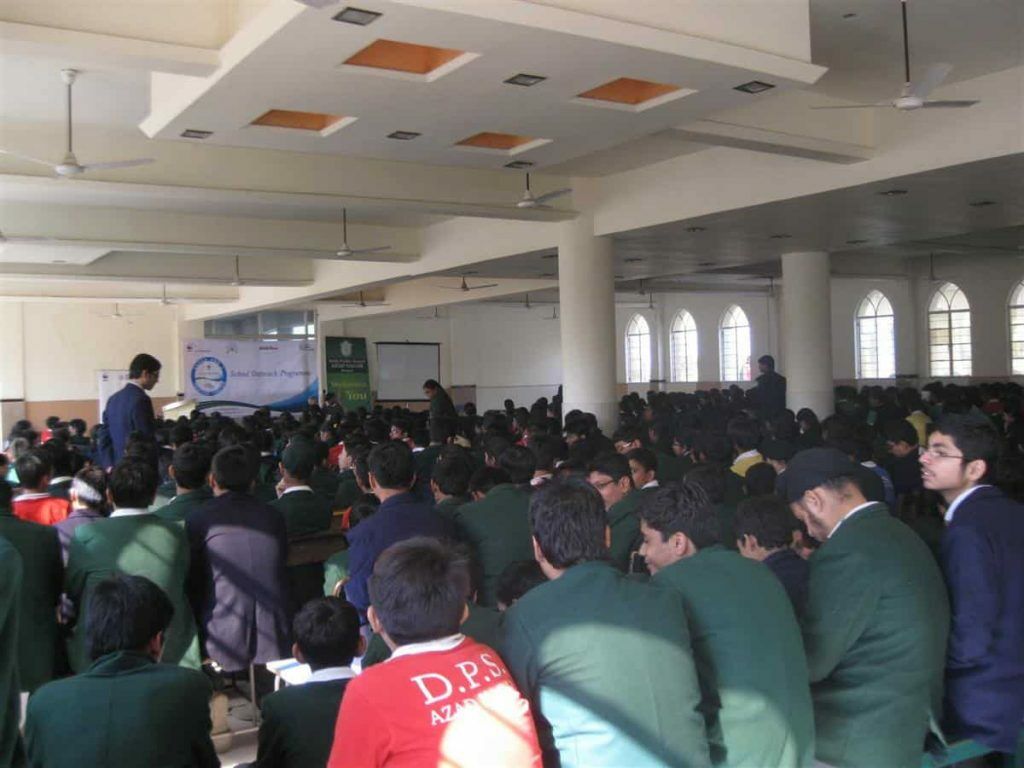 Sports Activities
Students of this school play outdoor sports like cricket, volleyball, swimming, football, basketball, skating, lawn tennis, hockey, badminton, athletics, throw ball and kho-kho. they also play indoor sports like table tennis, shooting, carrom, gymnastics, chess, and taekwondo. The school actively participates in all sports activities and represents itself at the state and national level sports events every year.
The school has a basketball court, a lawn tennis court, a football ground, a volleyball court, a hockey ground, a throwball court, two cricket pitches, a Kho-Kho court, a skating arena, a badminton court, a swimming pool, a gymnasium, a shooting range, and a 200-metre track for athletics.
Hostel Facilities
DPS Azad Nagar provides world-class accommodation facilities for its residential boarders. The school premises has separate hostels for girls and boys. The students lead a healthy lifestyle. Their safety and security are given utmost priority. The entire campus is under surveillance of the CCTV camera facilities. Rooms are air-conditioned and are shared by 2-3 students per room. It has a hygienic mess and dining area and provides tasty and nutritious food. The hostels also have sufficient support staff including caretakers, sweepers, laundry and maintenance staff under the supervision of the warden and administrator. The students get special help from the teaching staff as well as the resident staff during evening homework classes.
The hostel also has a well-equipped infirmary with trained medical staff and a visiting Doctor along with an emergency liaison with a nearby hospital. Several recreation activities like evening games and special outings are also arranged at regular intervals with due permission from the authorities. Contact and communication with parents are permitted to the boarders according to a calling schedule in which the students can receive calls from their parents/guardians and can even make calls to them when required.
DPS, Azad Nagar is an established and promising school in Kanpur. It is counted as one of the eminent educational institutions of the country. It has successfully proved its calibre in all the aspects of learning and aims to creatie a better space for the young learners.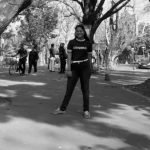 An undergraduate in Economics at Ravenshaw University, Cuttack. Poems, people and stars fascinate me. Empathy and gratitude is what I look for, within and around me.